Many of you readers may be first time honey gatherers. Perhaps you are more seasoned and want to bottle and label your product for others.
Keep in mind that there are certain requirements for labels (contact your local agricultural and/or business offices for your specific requirements).
Here are some basics:
1. All require a clear and legible label.
2. The word "Honey" should be readily visible
3. The type of forage the bees used to create the honey: "Wildflower Honey", or "Clover Honey", etc.
4. You must also include the weight of the honey excluding the packaging.
This should be displayed in the lower third portion of your label and clearly display both grams and ounces ( One ounce equals 28.35 grams and one pound (16 ounces) equals 453.59 grams.)
5. Also you must include your name, address and phone number on the front panel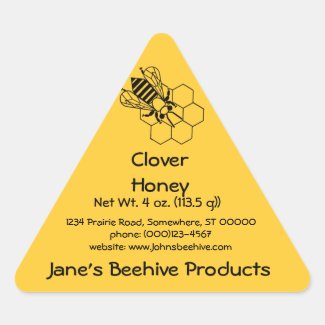 Sticker (Tri)- Honey Business (Bee on comb)
by
bkmuir
View Apiary Stickers online at
zazzle
Here are more examples on Zazzle:
Powered by
Zazzle Affiliate Helper